2017-2018 * Preschool – Daniel * 1st Grade – Faith * 3rd Grade – Noah
.
Welcome back to school!! We are so excited about this year!
.
Fun Theme: Me and My Family

Seasonal Theme: Apples, Back to School
Character/Habit: Respectfulness

Bible: James

History/Geography: Middle Ages/Australia
Science/Nature Study: 106 Days of Creation/Nature Journals
.
Parent Study:
.
Art, Music, and Poetry Study:
Picture study:
Giotto
Music Study:
Orchestra Basics
Poetry Study:
Favorite Poems Old and New
Book list:
Art of the middle ages / Jennifer Olmsted
The orchestra / written by Mark Rubin
The story of the orchestra : listen while you learn about the instruments, the music, and the composers who wrote the music / Robert Levine
A boy named Giotto / Paolo Guarnieri ; pictures by Bimba Landmann ; translated by Jonathan Galassi
Giotto / written and illustrated by Mike Venezia
Signs & symbols in Christian art : with illustrations from paintings of the Renaissance / by George Ferguson
Discovering great artists : hands-on art for children in the styles of the great masters / by Kohl, MaryAnn F.
Giotto / by Flores D'Arcais, Francesca
Meet the Orchestra / by Hayes, Anne
Music of the Middle Ages Gregorian Chant / Hamburg
Giotto Tended the Sheep / by Opal Wheeler
 .
Character/Habit Development: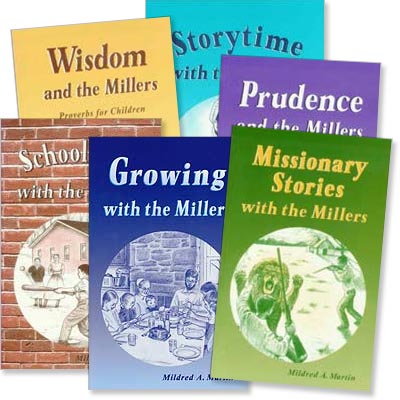 Teach Faith, and review with Noah, the Stewardship Street memory verses that go with each of the 7 categories of savings, Have children take a walk around the house each morning to observe what needs to be done and then select their own jobs on the I Can Serve board. Pay Noah (8) and Faith (6) in dimes once a week; provide coaching as needed for budgeting.
Have Noah and Faith study and write out verses from their Child Training Bible and Virtue Training Bible during morning devotions
Read Christian Heroes Then and Now as family read aloud before bed along with family Bible time
Have Noah and Faith complete workbook page on Respectfulness in Character Companion, and together, read the suggested Miller stories that exemplify the trait
Use the stories and activities from Laying Down the Rails for Children for the habit of the month during circle time
.
Circle Time/Family Time:
Blessing and Promise Time:
Acknowledge each child's unique traits and giftings, what I see ahead for this school year and how God can use him/her, my confidence and the Lord's in his/her ability to succeed in areas of previous struggle, and pray scriptural empowerment that specifically ministers to each need as I lay hands on them. "Then Jesus took the children in his arms and placed his hands on their heads and blessed them." Mark 10:16
Choral confession: 1 Peter 2:17 "Show proper respect to everyone: Love the brotherhood of believers, fear God, honor the King."
Prayer Time
Use our Prayer Wall to help us pray for current/urgent needs (on the chalkboard), as well as our family (slips of paper with all the promises we have stood on over the years), the world (slips of paper with the names of the countries we have studied in geography so far), and our loved ones (slips of paper with the names of friends and extended family).
Sharing Time:
Bring something really cool to circle that God created, talk about respect for God's creation
Bring something to circle that we are really proud of, talk about respect for ourselves- as ones who have been made in the image of God
Mommy share: Warm hearts and enjoy a sweet slideshow made by mommy with pictures that show many different ways that each child is special
Mommy Share: Put together a shoe box box of things that are very special to me and give insight into who I am as a person, and share about myself with your children. (a favorite toy or book from childhood, a cherished piece of jewelry, a piece of school work, something I made yourself, my prayer journal, etc.) Then have children try to do the same thing with their own shoe box of items at circle time on another day.
Family Share: Let each person in the family have a turn to sit in the middle of the circle to be complimented and encouraged by everyone else. Talk about respecting each other.
Discussion Time:
Read these stories, poems, & quotes/do the activities, and then start a discussion.
Review Pride/Humility: (from Kids of Integrity) As people, we tend to become proud of our accomplishments and abilities. In Jeremiah, wisdom, strength and wealth are listed as things we should not boast about. 1 Corinthians 1:25 says, "For the foolishness of God is wiser than man's wisdom, and the weakness of God is stronger than man's strength." One of the best ways to stay humble is to remain focused on God's greatness. He is so much wiser than us and so much stronger, and everything in the whole wide world is His! God is pleased when we fear (or respect) Him greatly (Psalm 147:10-11). When we recognize the magnitude of God's holiness, power and love, and realize how imperfect, weak and unloving we are in comparison, it helps us to stay humble. Complimenting God & Pride Comes Before a Fall
Review Initiative from last September: Do you wait to be told to do something that you know needs to be done? Initiative is: doing the right thing without being told. Doing it before someone else does. Also, it can involve doing more than what you were told to do. Being the first one to do something good. Lack of initiative is assuming someone else will do it. "So whoever knows the right thing to do and fails to do it, for him it is sin." James 4:17 Talk about what the children are doing to take initiative. (teach Daniel the Bible, teach Daniel how to do housework, check the job board, pray out first in prayer) Now what else could you work on taking more initiative? (introduce myself to people at church, look for ways to help around the house without being asked, be the first one to smile or say I love you, do my lessons before I am told to, start a friendship with someone new, find a way to earn some money, look for ways to help around the neighborhood or church)

Proverbs 16:3 "Commit thy works unto the LORD, and thy thoughts shall be established."

Review Respect: consideration for others; to think highly of; admiration for something or someone because of their abilities, qualities, or achievements. Reverence is profound respect with a spiritual connotation/feeling about it. Honor is showing high respect for someone in a tangible way that comes from the heart. Honor is about going our of our way to treat someone as special, rather than doing only what is expected.
Review our Family Rules of Respect poster (no talking back, no antagonizing, look at someone when they are talking to you, answer when spoken to, respecting other people's wishes, use manners, carry groceries for mommy, opening doors for others, greet daddy when he comes home, letting sisters go ahead of you, not damaging household items on purpose, greet and visit with elders at a gathering, etc.)
To continue to provide living examples, list words and deeds said and done this month in our family that show disrespect and ones that show respect or honor.
Talk about God's way of disciplining disrespect (emphasis on work vs. play), which is also our way. Psalm 107:11-12  "…for they had rebelled against the words of God and despised the counsel of the Most High. So He subjected them to bitter labor; they stumbled, and there was no one to help."

(from Kids of Integrity)Talk to your children about God's heart of love and willingness to forgive them when they are sorry. Encourage your child with Isaiah 57:15: "For this is what the high and lofty One says – He who lives forever, whose name is holy: 'I live in a high and holy place, but also with him who is contrite and lowly in spirit, to revive the spirit of the lowly and to revive the heart of the contrite.' "Explain that when we are deeply sorry in our hearts, God is willing to forgive us and continue His friendship with us. Affirm that earthly parents are also pleased to hear their children repent when they have done wrong and are quick to forgive as God is.

Read the following verses: Exodus 20:12 "Honor your father and your mother, so that you may live long in the land the Lord your God is giving you." Leviticus 19:32 "Rise in the presence of the aged, show respect for the elderly, and revere your God. I am the Lord." Romans 12:10 "…Honor one another above yourselves."

Brainstorm ways to show respect and honor to girls, women, boys, and men. How about parents and grandparents? Also list ways to respect widows, the elderly, the younger, the weaker by serving them.
Proverbs 20:11 "Even a child is known by his actions, by whether his conduct is pure and right."

The First of April at Hazel Dell (LDR)
If you tend to think of only yourself what will you do when someone accidentally bumps into you? (get angry, think they did it on purpose) When they break your toy? When they say something unkind? How would your responses be different in each situation if you tend to think of others?
Explain how learning about other cultures has helped increase our respect for other people groups around the world. Enjoy Wee Sing: Around the World during car rides.
Bible/Devotions:
Early Morning: Personal time: read in a variety of Bibles and Bible Storybooks, use prayer journals and practice listening for God's voice, study in the Child Training Bible and Virtue Training Bible, do personal prayer and worship.  Together time: worship acapella and with guitar, pray with (or without) the prayer wall, narrate Bible readings (per curriculum).
Night: Family Bible study led by daddy
.
Memory Verses:
Isaiah 61:1-4
Also we will review all verses from previous Septembers:
Leviticus 19:32 "Rise in the presence of the aged, show respect for the elderly, and revere your God. I am the Lord." Leviticus 19:32
"Pride goes before destruction, and a haughty spirit before a fall." Proverbs 16:18
"In the beginning God created the heaven and the earth." Genesis 1:1
"I will praise Thee; for I am fearfully and wonderfully made. " Psalms 139:14
"Before I formed thee in the belly I knew thee; and before thou camest forth out of the womb I sanctified thee, and I ordained thee a prophet unto the nations. " Jeremiah 1:5
Stewardship Street verses
.
 Hymns:
This is Our Father's World
All Creatures of Our God and King
All Things Bright and Beautiful
I Sing the Mighty Power of God
.
Poetry Recitation:
Review 'My Shadow' by Robert Louis Stevenson, and (for Daniel) revisit this sweet poem we did years ago in our 1st year of preschool:

.
Handwriting:
Write for Real Life: written letters, birthday cards, thank you cards, shopping lists, nature journal entries, prayer journal entries, His Story book, blank books/story writing, spelling words, poem or memory verse copy work, copying verses from the Child Training Bible and Virtue Training Bible.
Print to Cursive. (Noah and Faith)
Daniel will start to practice his letters on our little black chalkboards from Handwriting without Tears

.
.
.
.
Spelling/Language/Story Crafting:
Faith will study, word build, hand write, and then recite the spelling of all new reading words from one Pathway Reader story a week. Noah will do prepared dictation using classic literature selections in the curriculum Spelling Wisdom, and language lessons in Using Language Well.
.
.
.
.
.
Noah and Faith will have fun with creative writing using these story starters.
.
Reading:
Once a week, Noah will use the Pathway Readers to practice prosody; Faith will use them for reading practice. The readers also provide spelling words for Faith (preparing her to switch to prepared dictation in 3rd grade). Daniel will begin using our Lauri alphabet puzzle to sound out (reading) and word build (spelling) three letter word.
 .
.
.
.
Vocabulary:
Most words are learned naturally in conversation and during read alouds as words in question arise, but I will also have Noah and Faith look up one word, any word of choice, once a week in the Noah Websters 1828 Dictionary and write out the definition in their vocabulary notebooks.
.
Literature Read Alouds:
Also see "I am Special" themed picture books for Daniel in previous September lesson plans.

.
History and Geography:
5 lessons a week from SCM's Middle Ages, Renaissance, Reformation, & Epistles history curriculum. Noah and Faith will typically narrate readings orally, but also narrate in their 'His Story' sketchbooks with drawings every once in awhile. 1 lesson a week from SCM's Visits to South America and Central America geography curriculum.
.
.
.
.
History Curriculum Manual and Spine:
Living Book List:
Castle / by David Macaula
A farm through time / illustrated by Eric Thomas ; written by Angela Wilkes
Saint Patrick : pioneer missionary to Ireland
The first book of the barbarian invaders, A. D. 373-511. Pictures by W. Kirtman Plummer
The barbarians; the story of the European tribes / by
Viking adventure / by Clyde Robert Bulla
The sword in the stone / by Grace Maccarone (reader)
King Arthur and his knights / by Mabel Louise Robinson
Illuminations / written and illustrated by Jonathan Hunt
The illuminated alphabet, by Theodore Menten
Arthur and the sword / by Sabuda, Robert.
The boy's King Arthur; Sir Thomas Mallory's history of King Arthur and his knights of the round table
Johann Gutenburg and the Amazing Printing Press / by Koscienlniak, Bruce
Life in a Medieval Abbey / by McAleavy, Tony
Marguerite Makes a Book / by Robertson, Bruce
Viking / by Margeson, Susan
.
Geography Curriculum Manual, Spines, and Prayer Manual:
.
Living Book List:
Top to Bottom Down Under / by Lewin, Ted
Koala Lou / by Fox, Mem
The Aboriginal Peoples of Australia / by Bartlett, Anne
Looking at maps and globes / by Carmen Bredeson
One wooly wombat / written by Rod Trinca and Kerry Argent
Australian animals / Caroline Arnold
Market! / Ted Lewin
 .
Math:
Daniel's Exploration Time: In the morning just before school, provide pattern blocks, unifix cubes, building blocks, tangrams, geoboards, tiles, pattern blocks, etc. for free exploration of math materials. What can you do with these materials? What did you notice? What did you have to do in order to make it? Try to observe while they are working, and sometimes make a comment about what you observe. When children need a suggestion ask, "I wonder if…." or "Do you think it would work to….?" or "Do you have another idea?," so that they feel free to decide on their own.
Daniels Lessons: Spend a few minutes once a week using "flashcards" with arrangements of items that can be counted (like toothpicks or buttons that can be grouped into two numbers upon closer inspection in order to quickly find the total). Count blueberries and grapes and other food at the table often.
.
.
.
.
.
Mental Math for Noah and Faith: Everyday try to work in 5 minutes of "living math"–verbally present interesting scenarios that require students to do mental calculations with math concepts they have already learned.
Noah's Lessons: Multiplication and Division book, Your Business, Kahn Academy, and an occasional Math Card Game. He will be learning his multiplication table and practicing addition and subtraction.
Faith's Lessons:
Place Value lessons in Book #3 by Kathy Richardson on pages 14-31–learning to regroup by 4's, 5's, and 6's (preparation for grouping by 10's, the base 10 system).
Faith will continue recording subtraction facts in in her Number Book, as she has recorded all addition facts and some subtraction (up to 10) that she explored with manipulatives last school year.
Time to Any Hour (p. 61) Put the hour and minute cards face down in two separate piles. Provide a real clock. Have child form a time by turning over the top minute card and the top hour card, and then set the clock to match.
Compare Times (p. 62) Players take turns setting the clock. Then they make the time with their cards.
To One Hundred (p. 26) Make a stock pile of 5's and 10's cards. Player take the top card and enters that number of beads on his abacus. Players take turns adding by 5's and 10's until someone reaches 100 exactly. Variation: Use a hundreds chart instead of an abacus.
Addition War (p. 39) Using about 40 1-9 numeral cards, deal the cards out evenly. Players take the top two cards from their stacks, set them face up, add them together, and say the sum aloud. The player with the higher sum takes all four cards. Equal sums means war and each player places two extra cards face down, and then places two more face up to add together. The higher sum takes all the cards.
Showing a Number On Various Manipulatives Use an abacus, place value cards, unifix cubes, and a hundreds chart to show a number like 37 or 56 or 94 on various manipulatives.
Extra: Download and print open ended math questions to use as time allows. Ask Faith to provide as many answers as she can.

.
Science/Nature Study:
.
.
.
.
Spanish:
We will be meeting with Miss Maria and her family once a week to learn conversational Spanish through music and art! What a blessing!
.
Videos:
On Fun Fridays, we do family movie night, and love to watch Moody Science videos, Reading Rainbow, Bill Nye, BBC's Planet earth and The Blue Planet, Shirley Temple, Little House on the Prairie (the mild episodes), the Sound of Music, and other (mild) family movies from Netflix! I usually preview movies and decide if they are wholesome and mild enough for my sensitive kiddos. We still often need to use the fast forward button though! 🙂
.
Traditions and Fun Friday Projects:
Celebrate the first day of school! Show them how special this school year will be– as a new beginning, a fresh start– with a beautifully set breakfast table on the first morning of school. Set out any school supplies that can be given as gifts. Make a school year theme banner, and talk about goals and hopes and dreams for the year at dinner the night before with daddy. This is the first year that the kids keep telling me they are excited for school to start. Yay!
Make a self portrait and/or fmaily portrait
Make an illuminated letter with copper foil or aluminum foil, and the book The Illuminated Alphabet
Video: Explore a viking village
Make viking treasure out of oven bake clay, use various objects to make imprints, and paint with metallic colors
Paint/draw a picture of a viking ship
Make a scroll map of viking voyages
Fieldtrips:
Apple Hill on or before Labor Day
---