2017-2018 * Preschool – Daniel * 1st Grade – Faith * 3rd Grade – Noah
.
Fun Theme: When I Grow Up / Heroes (Christ, Parents, Community Helpers, Historical Figures, and Fictional Characters)

Seasonal Theme: Fall, Scarecrows
Character/Habit: Confidence

Bible: James

History/Geography: Middle Ages/Australia
Science/Nature Study: 106 Days of Creation/Nature Journals
.
Parent Study:
.
Art, Music, and Poetry Study:
Picture study:
Giotto
Music Study:
Orchestra Basics
Poetry Study:
Favorite Poems Old and New
Book list:
Picture That: Knights & Castles (Exploring History through Art) / by Alex Martin
The Carnival of the Animals / by Jack Prelutsky
Peter and the Wolf / by Janet Shulman
The orchestra / written by Mark Rubin
The story of the orchestra : listen while you learn about the instruments, the music, and the composers who wrote the music / Robert Levine
Discovering great artists : hands-on art for children in the styles of the great masters / by Kohl, MaryAnn F.
Giotto / by Flores D'Arcais, Francesca
Meet the Orchestra / by Hayes, Anne
Music of the Middle Ages Gregorian Chant / Hamburg
.
Character/Habit Development: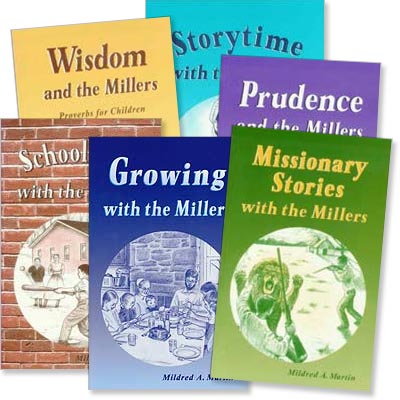 .
Circle Time/Family Time:
Blessing and Promise Time:
Sing a song of blessing over my children; my kids LOVE this Aaronic Benediciton (alternatively or additionally, this song could be played at bedtime).
Choral confession: Jeremiah 17:7 "Blessed is the one who trusts the Lord, whose confidence is in him."
Prayer Time
Use our Prayer Wall to help us pray for current/urgent needs (on the chalkboard), as well as our family (slips of paper with all the promises we have stood on over the years), the world (slips of paper with the names of the countries we have studied in geography so far), and our loved ones (slips of paper with the names of friends and extended family).
Print out and pray these parent prayers and scriptures for confidence this month, and the kids prayers for confidence.
Sharing Time:
Choose a promise from scripture for your life this school year based on your personal needs/desires that we can all stand on and pray over you regularly throughout the year. (Mine for this year is James 3:17: "

the wisdom from above is first pure, then peaceable, gentle, open to reason, full of mercy and good fruits, impartial and sincere.")

Pray and practice confidence this month and share about your experiences at circle
Bring a picture and story of someone who is a hero to you
What do you want to be when you grow up? Share some interesting information about that type of job.
Discussion Time:
Read these stories, poems, & quotes/do the activities, and then start a discussion.
Confidence:
Display and read one scripture a day from the document Who I am in Christ, discuss what it means, and then go down the whole list saying the confessions out loud together
Read Miller stories that demonstrate the character trait of confidence (do accompanying worksheet from Character Companion during morning devotions)
Revisit the "Founding Message of Jesus Precious Little Lambs" highlighting that we are extremely valuable to Jesus (knowing our worth to Him produces confidence)
Courage (Review):
"Mental or moral strength to venture, persevere, and withstand danger, fear, or difficulty."

Slowly savor thoughtful ideas about courage, discuss one a day:

selfishness makes us cowards, but thinking of others makes us braver
we become brave by doing brave acts
we practice bravery by acting brave when we don't really feel brave
the brave person is not someone who is never afraid
the fear of failures never hurts as bad as we expect them to
we imagine our fears into existence (Job and Chicken Little)
to refrain from foolish cowardice, refrain from too much mountain-making our of molehills

"Heroism comes from a perception of what is good, right, and beautiful, and a will to claim it and defend it." –Sarah Clarkson
Read short true stories about the lives of Christian heroes
Imagination (Review):
"There are no days in life that are so memorable as those that vibrate to some stroke of the imagination." -Ralph Waldo Emerson

The Story of a Great Story An example of how the idea for Robinson Crusoe was sparked.

"Doubt and fear neutralize what God wants to do in your life. It takes courage to imagine. Do you know why most people don't imagine? Because they're afraid of failure." -Rick Warren

Does fear or faith govern your imagination?

If you let your imagination be governed by fear, you're going to go around being freaked out, stressed out, and worried all the time. Imagination governed by faith is filled with all kinds of possibilities because "with God all things are possible."

Imagination defined–mental pictures of things not present. Faith works with Imagination by allowing the Holy Spirit to develop a photograph upon our hearts of our potential destinies. 
The devil wants us to be blind to what God has thought and determined for us. When our imaginations are not Godly (provide examples), we need to cast down thoughts that steal our joy, and then raise up the vision of God for our life (provide examples). When God enlightens the eyes of our hearts, wonderful things begin to happen.

Casting down imaginations, and every high thing that exalteth itself against the knowledge of God, and bringing into captivity every thought to the obedience of Christ…" 2 Corinthians 10:5
I pray that the eyes of our hearts may be enlightened, so that we will know what is the hope of His calling, what are the riches of the glory of His inheritance in the saints. Ephesians 1:18 (Enlightened is translated as 'photizo' from which we get the word photograph

Children have the strongest most unrestrained imaginations. What would God have you imagine while you are young, so that you may live it when you are old?
What/who we admire, we tend to become. Who are the people and what are their qualities that you imagine yourself becoming like? Who are some of your heroes and what are they like?
Everything that has been created by mankind: skyscrapers, skis, cars, computers, buildings, boulevards, coffee cups, cotton balls and even things immaterial such as concepts and philosophies all began in the mind of someone before they became reality. What could God use you to do?
Practice using imaginative narration methods such as puppets, or drawing or acting the story out more often.
Bible/Devotions:
Early Morning: Personal time: read in a variety of Bibles and Bible Storybooks, use prayer journals and practice listening for God's voice, study in the Child Training Bible and Virtue Training Bible, do personal prayer and worship.  Together time: worship acapella and with guitar, pray with (or without) the prayer wall, narrate Bible readings (per curriculum).
Night: Family Bible study led by daddy
.
Memory Verses:
1 Samuel 16:7 "But the Lord said to Samuel, 'Do not consider his appearance or his height, for I have rejected him. The Lord does not look at the things man looks at. Man looks at the outward appearance, but the Lord looks at the heart.' "
Also we will review all verses from previous Octobers:
"We who are strong have an obligation to bear with the failings of the weak, and not to please ourselves. Let each of us please his neighbor for his good, to build him up." Romans 15:1-2
And in the last days it shall be, God declares, that I will pour out my Spirit on all flesh, and your sons and your daughters shall prophesy, and your young men shall see visions, and your old men shall dream dreams." Acts 2:17
Psalm 23
"God is our refuge and strength, a very present help in trouble." Psalm 46:1
"Be of good courage, and he shall strengthen your heart, all ye that hope in the Lord." Psalms 31:24
.
 Hymns:
.
Poetry Recitation:
St. Patrick's Prayer (400)
May the Strength of God pilot us.
May the Power of God preserve us.
May the Wisdom of God instruct us.
May the Hand of God protect us.
May the Way of God direct us.
May the Shield of God defend us.
May the Host of God guard us.
Against the snares of the evil ones.
Against temptations of the world


May Christ be with us!
May Christ be before us!
May Christ be in us,
Christ be over all!
May Thy Salvation, Lord,
Always be ours,
This day, O Lord, and evermore. Amen.
.
Handwriting:
Write for Real Life: written letters, birthday cards, thank you cards, shopping lists, nature journal entries, prayer journal entries, His Story book, blank books/story writing, spelling words, poem or memory verse copy work, copying verses from the Child Training Bible and Virtue Training Bible.
Print to Cursive. (Noah and Faith)
Daniel will practice his letters on our little black chalkboards from Handwriting without Tears

.
.
.
.
Spelling/Language/Story Crafting:
Faith will study, word build, hand write, and then recite the spelling of all new reading words from one Pathway Reader story a week. Noah will do prepared dictation using classic literature selections in the curriculum Spelling Wisdom, and language lessons in Using Language Well.
.
.
.
.
.
Noah and Faith will have fun with creative writing using these story starters once or twice a month.
.
Reading:
Once a week, Noah will use the Pathway Readers to practice prosody; Faith will use them for reading practice. The readers also provide spelling words for Faith (preparing her to switch to prepared dictation in 3rd grade). Daniel will use our Lauri alphabet puzzle to sound out (reading) and word build (spelling) three letter word.
.
.
.
.
Vocabulary:
Most words are learned naturally in conversation and during read alouds as words in question arise, but I will also have Noah and Faith look up one word, any word of choice, once a week in the Noah Websters 1828 Dictionary and write out the definition in their vocabulary notebooks.
.
Literature Read Alouds:
Also see "Hero/When I Grow up/Imagination" themed picture books for Daniel in Literature Read Alouds of previous October lesson plans.

.
Sir Walter Scott's Ivanhoe / adapted by Marianna Mayer ; paintings by John Rush
Chanticleer and the Fox / by Barbara Cooney
The Ink Garden of Brother Theopane / by C.M. Millen
The Kitchen Knight: A Tale of King Arthur / by Margaret Hodges
The Making of a Knight: How Sir James Earned His Armor / by Patrick O' Brien
Saint George and the Dragon: A Golden Legend / by Margaret Hodges
History and Geography:
5 lessons a week from SCM's Middle Ages, Renaissance, Reformation, & Epistles history curriculum. Noah and Faith will typically narrate readings orally, but also narrate in their 'His Story' sketchbooks with drawings every once in awhile. 1 lesson a week from SCM's Visits to South America and Central America geography curriculum.
.
.
.
.
History Curriculum Manual and Spine:
Living Book List:
Silk Route / by John Major
What You will See Inside a Mosque / Aisha Khan
Atlas of Islam: People, Daily Life and Traditions / by Neil Morris
Muhammad / by Demi
Islam / by Philip Wilkinson and Batul Salazar (DK)
Eric the Red and Leif the Lucky / by Barbara Schiller
Leif the Lucky / by Ingri and Edgar Parin d'Alauire
Leif's Saga / by Jonathan Hunt
Leif the Lucky: Discoverer of America / by Erick Berry
Once Upon a Time Saints / by Ethel Pochoki
Saints: Lives and Illuminations / by Ruth Sanderson
Arabs in the Golden Age / by Mokhtar Moktefi
Child's Book of Saints / by William Canton
Favorite Medieval Tales / by Mary Pope Osborne
Roman Empire and the Dark Ages: History of Everyday Things / by Giovanni Caselli
Everyday Life of a Viking Settler / by Giovanni Caselli
Arthur and the Sword / by Thomas Malory
Fin M'Coul : the giant of Knockmany Hill / retold and illustrated by Tomie de Paol
Patrick : patron saint of Ireland / by Tomie dePaola
Saint Francis / by Brian Wildsmith
.
Geography Curriculum Manual, Spines, and Prayer Manual:
.
Living Book List:
The Pumpkin Runner / by Marsha Diane Arnold
One wooly wombat / written by Rod Trinca and Kerry Argent
Big Rain Coming / by Katrina Germein
The Gift Stone / by Robyn Eversole
New Zealand ABCs /by Holly Schroeder
First Book of Australia / by Edna Mason Kaula
Red Earth, Blue Sky: The Australian Outback / by Margaret Rau
Starry Sky / DK Reader (science)
.
Math:
Daniel's Exploration Time: In the morning just before school, provide pattern blocks, unifix cubes, building blocks, tangrams, geoboards, tiles, pattern blocks, etc. for free exploration of math materials. What can you do with these materials? What did you notice? What did you have to do in order to make it? Try to observe while they are working, and sometimes make a comment about what you observe. When children need a suggestion ask, "I wonder if…." or "Do you think it would work to….?" or "Do you have another idea?," so that they feel free to decide on their own.
Daniels Lessons: Spend a few minutes once a week using "flashcards" with arrangements of items that can be counted (like toothpicks or buttons that can be grouped into two numbers upon closer inspection in order to quickly find the total). Count blueberries and grapes and other food at the table often.
.
.
.
.
.
Mental Math for Noah and Faith: Everyday try to work in 5 minutes of "living math"–verbally present interesting scenarios that require students to do mental calculations with math concepts they have already learned.
Noah's Lessons: Multiplication and Division book, Your Business, Kahn Academy, and an occasional Math Card Game. He will be learning his multiplication table and practicing addition and subtraction.
Faith's Lessons:
Place Value lessons in Book #3 by Kathy Richardson on pages 14-31–learning to regroup by 4's, 5's, and 6's (preparation for grouping by 10's, the base 10 system).
Faith will continue recording subtraction facts in in her Number Book, as she has recorded all addition facts and some subtraction (up to 10) that she explored with manipulatives last school year.
Time to Any Hour (p. 61) Put the hour and minute cards face down in two separate piles. Provide a real clock. Have child form a time by turning over the top minute card and the top hour card, and then set the clock to match.
Compare Times (p. 62) Players take turns setting the clock. Then they make the time with their cards.
To One Hundred (p. 26) Make a stock pile of 5's and 10's cards. Player take the top card and enters that number of beads on his abacus. Players take turns adding by 5's and 10's until someone reaches 100 exactly. Variation: Use a hundreds chart instead of an abacus.
Addition War (p. 39) Using about 40 1-9 numeral cards, deal the cards out evenly. Players take the top two cards from their stacks, set them face up, add them together, and say the sum aloud. The player with the higher sum takes all four cards. Equal sums means war and each player places two extra cards face down, and then places two more face up to add together. The higher sum takes all the cards.
Showing a Number On Various Manipulatives Use an abacus, place value cards, unifix cubes, and a hundreds chart to show a number like 37 or 56 or 94 on various manipulatives.
Sort Attribute Blocks One person sorts all the blocks one at a time into piles according to a secret rule (thin and red), while the others watch and try to guess the rule. Or one person chooses a rule, and the other chooses a block and asks if it belongs. Play continues until the rule can be stated.
Make Attribute Block Patterns Also have the child find the error in a pattern or a missing block.Faith will continue recording subtraction facts in in her Number Book, as she has recorded all addition facts and some subtraction (up to 10) that she explored with manipulatives last school year.
Extra: Download and print open ended math questions to use as time allows. Ask Faith to provide as many answers as she can.

.
Science/Nature Study:
.
.
.
.
Spanish:
We will be meeting with Miss Maria and her family once a week to learn conversational Spanish!
.
Videos:
On Fun Fridays, we do family movie night, and love to watch Moody Science videos, Reading Rainbow, Bill Nye, BBC's Planet earth and The Blue Planet, Shirley Temple, Little House on the Prairie (the mild episodes), the Sound of Music, and other (mild) family movies from Netflix! I usually preview movies and decide if they are wholesome and mild enough for my sensitive kiddos. We still often need to use the fast forward button though! 🙂
.
Traditions and Fun Friday Projects:
Watercolor resist leaves, crayon rubbings, or charcoal rubbings
Make a world architecture art project, such as a cathedral or
Learn how to make something out of stained glass scraps
Make and Deliver Fall Blessings as an outreach to neighbors
Dress Up and Play Heroes
Collect Signs of Fall
Arrange a Community Helper Fieldtrip
Do a Fall Leaf Scavenger Hunt (provide a picture of a leaf and then hunt it down at the Nature Park, or provide a leaf and go find the tree)
Fieldtrips:
Clayton Pumpkin Patch
Ohlone Cultural Celebration at Coyote Hills Regional Park
Fire station
---