2018-2019     Pre-K – Daniel     2nd Grade – Faith      4th Grade – Noah
.
Fun Theme: Easter
Seasonal Theme: Spring
Character/Habit: Self Controlled

Bible: Titus

History/Geography: Early America/North America

Science/Nature Study: 106 Days of Creation/Nature Journals
.
Parent Study:
.
Art, Music, and Poetry Study:
Picture study:
Choose one artist a term to read his/her biography and study his/her pictures:
John Trumball, John William Waterhouse, Frederick Remington
Possible Future Studies: Rococco Art (1700s), Thomas Birch (American marine painter, early 1800s), Mary Cassatt (late 1800s), Cezanne (late 1800s)Vincent Van Gogh (late 1800s), Pierre-Auguste Renoir (late 1800s), Grandma Moses (1940s), Norman Rockwell (1940s), (one artist a term; future studies: Millet, Cezanne), and enjoy Robert Griffing's work as we read about Colonial America
Music Study:
Learn patriotic songs
Choose one composer a term to read his biography and listen to his work:
Wolfgang Amadeus Mozart
Possible Future Studies:
Henry Purcell 1659-1695
Antonio Vivaldi 1675-1741
Domenico Scarlatti 1680-1750
Telemann 1680-1760
Johann Sebastian Bach 1685-1750
George Frideric Handel 1685-1759
Haydn 1732-1809
Wolfgang Amadeus Mozart 1756-1791
Ludwig von Beethoven 1770-1827
Niccolo Paganini 1782-1840
Franz Schubert 1790-1820
Gioachino Rossini 1790-1860
Felix Mendelssohn 1810-1840
Frederic Chopin 1810-1849
Robert Schumann 1810-1850
Giuseppe Verdi 1810-1900
Richard Wagner 1820-1880
Franz Liszt 1820-1890
Johann Strauss II 1825-1899
Stephen Foster 1830-1860
Johannes Brahms 1833-1897
Pyotr Ilyich Tchaikovsky 1840-1893
Antonin Dvorak 1840-1900
Edvard Grieg 1850-1900
John Phillips Sousa 1854-1932
Claude Debussy 1860-1920
Jean Sibelius 1865-1957
Scott Joplin 1868-1917
Maurice Ravel 1870-1930
Sergei Rachmaninoff 1870-1940
Gilbert and Sullivan 1870-1896
Igor Stravinsky 1880-1970
Bela Bartok 1881-1945
George Gershwin 1900-1930
Dmitry Shostakovich 1900-1970
Aaron Copland 1910-1980
Poetry Study:
Henry Wadsworth Longfellow
Write one poem a month (often as narration of something we are reading)
Book list:
Poetry for Young People Series
Opal Wheeler composer biographies
Discovering great artists : hands-on art for children in the styles of the great masters series by Kohl, MaryAnn F.
Stories of the Opera by Clyde Robert Bulla
The Story of "______" in Word and Music (Mausic Master Series, composer study CDs)
Stories of the Painters by Amy Steedman
What Makes a …. (Rembrandt a Rembrandt, etc)?
Getting to Know the Worlds Greatest Artists/Composers
Art books on Native Americans by Robert Griffing
Treasures from the National Museum of American Art by William Kloss
Of arms and artists : the American Revolution through painters' eyes / Paul Staiti.
Frederic Remington : the masterworks / Michael Edward Shapiro, Peter H. Hassrick
The Frederic Remington Art Museum collection / by Brian W. Dippie
Drawn to Yellowstone : artists in America's first national park / Peter H. Hassrick
The Story of Mozart in words and music [sound recording]
Mozart for kids.
The magic flute : an opera by Mozart / adapted by Kyra Teis.
Bravo! Brava! a night at the opera : behind the scenes with composers, cast, and crew / Anne Siberell ; introduction by Frederica von Stade
Wolfgang Amadeus Mozart / written and illustrated by Mike Venezia
Mozart and classical music / text by Francesco Salvi; illustrations by L.R. Galante
Mozart's The magic flute / [music by Wolfgang Amadeus Mozart ; libretto by Emanuel Schikaneder] ; a Metropolitan Opera High-Definition Production
Sister Wendy's American Masterpieces
Relax, Daydream, and Draw, The Mozart Effect
Art Instruction:
.
Character/Habit Development: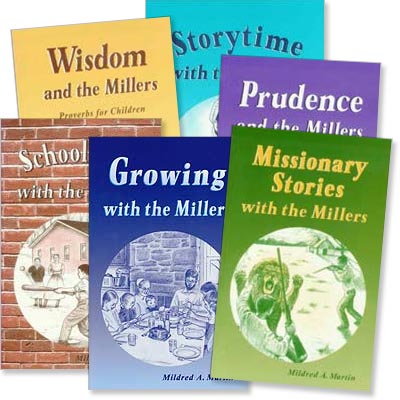 Review the Stewardship Street memory verses that go with each of the 7 categories of savings, Have children take a walk around the house each morning to observe what needs to be done and then select their own jobs on the I Can Serve board. Pay Noah (10) and Faith (8) in dimes once a week; provide coaching as needed for budgeting.
Noah and Faith do personal Bible study by writing out relevant verses, based on curiosities or as needed, from their Child Training Bible and Virtue Training Bible during morning devotions
Read Christian Heroes Then and Now as family read aloud before bed along with family Bible time
Have Noah and Faith complete workbook page in Character Companion based on the character theme of the month, and together, read the suggested Miller stories that exemplify the current trait
Use the stories and activities from Laying Down the Rails for Children for the habit of the month during circle time
.
Circle Time/Family Time:
Family Devotions Books:
Discussion Time:
Blessing and Promise Time:
Meditate on 2 Peter 1:5-8 "For this very reason, make every effort to add to your faith goodness; and to goodness, knowledge, and to knowledge, self-control; and to self-control, perseverance; and to perseverance, godliness; and to godliness, brotherly kindness; and to brotherly kindness, love. For if you possess these qualities in increasing measure, they will keep you from being ineffective and unproductive in your knowledge of our Lord Jesus Christ."

Take time to speak a blessing, celebrate progress, and encourage their behavior by speaking over our children words such as:
"I'm proud you went to God for help in using self-control. I see that the Holy Spirit is living in you, because I see your self-control. Jesus is proud of you and so am I."

Prayer Time
Use our Prayer Wall to help us pray for current/urgent needs (on the chalkboard), as well as our family (slips of paper with all the promises we have stood on over the years), the world (slips of paper with the names of the countries we have studied in geography so far), and our loved ones (slips of paper with the names of friends and extended family).
Print out and pray these parent prayers and scriptures for contentment this month, and the kids prayers too.
Use Instructions in Righteousness to help identify areas of persistent sin/selfishness (and its suggestions for rewards and punishments).
Sharing Time:
Share anecdotes of how I have seen each child grow in self control and character over the years.
Discussion Time:
Read these stories, poems, & quotes/do the activities, and then start a discussion.
Self-Controlled defined: Able to keep one's appetites, desires and emotions in proper balance to what is wholesome and expedient; temperate; self restrained.
Self Control is learning to quickly identify and obey the initial promptings of the Holy Spirit. Bringing my thoughts, words, and actions under the control of the Holy Spirit.

Do you want to hear about a great gift that God has waiting for all of us? Read Luke 11:5-13. Explain that the Holy Spirit is God's special gift to us and that His Spirit can come and live in each of us (John 16:5-16, John 14:15-21). Ask your children if they want to accept God's gift of the Holy Spirit. If they do, suggest that while you pray, they hold their hands open as though they were about to receive a gift. Pray with them, thanking God for His gift of the Holy Spirit and asking God to fill each of you with the Holy Spirit. Pray specifically for the Holy Spirit to provide self-control.

Read Romans 8:6 Being spiritually minded is life and peace. How much peace is in your life? Do you think you might need to be more spiritually minded? Who makes us that way? If you need more peace, lets pray for the Spirit to fill you.
Matthew 12:36 says that all of us will have to give an account to God for every careless word we speak. Ask the Holy Spirit to place a guard on our mouths.
Read No Hard Hearts on p.210 of Over the Edge devotional by Kenneth and Gloria Copeland, and other devotionals on the topic of the Holy Spirit
Read Galatians 5:13-15 and 25-26. Shake a soda can, open it, and let it explode. When we do not use self-control, we end up "biting and devouring" each other, and "provoking and envying" each other. This is not God's plan for our lives. He would rather see us encouraging and building one another up. When we feel like fizzing all over everyone, it is time to get alone with God for a talk. Help your children make plans for what they will do when they feel like they are going to lose self-control (see next idea).
Make a large wooden cross together to display among the backyard flowers for both Easter and habit training. Make a plan to run to the cross, kneel, and spend a quiet moment in prayer there whenever anyone of us is losing or has lost self control.
At the cross….. Repent today. Be aware of the sins that crucified Him. Write them down…..ingratitude, unbelief, envy, pride. Feel your need for a Savior. Burn up the confessions. Feel the emancipation of salvation. You are dead to the old you. Know that your sins are no more. You are a new creation.
Developing more self-control means learning to consider the bigger picture with regards to your decisions. Those who are highly impulsive tend to think only in the short-term, or about immediate reward. For example, a typically impulsive individual might think, "l am happier when I eat chocolate so it must be good to eat it.'
A quote from Jane Eyre in the moment of temptation: "….with my veins running fire, and my heart beating faster than I can count its throbs. Preconceived opinions, foregone determinations, are all I have at this hour to stand by: there I plant my foot." Lines must be drawn — in advance. "Foregone determinations" she called them. Principles. These established guards in advance, destined to prevent us from faltering when our steadfastness may be put on trial.
Two wrongs do not make a right. The writer of Proverbs says, "A soft answer turneth away wrath: but grievous words stir up anger" (Proverbs 15:1). We do not need to treat others in the same way that we have been treated. It is clear from these passages of Scripture that we need to act – not react. Neither should we simply be passive; but God's Word confirms the need to actively rise above the tit-for-tat behavior that characterizes so many failing relationships.This is what should set us apart as Christians; and why we need to daily draw on the power of the Risen Christ. The wrongs committed against us are opportunities for us to grow in our walk with God as we acknowledge the Truth of His Word and submit ourselves to be governed by its principles rather than our emotions.
Bible/Devotions:
Early Morning: Personal time: read in a variety of Bibles and Bible Storybooks, use prayer journals and practice listening for God's voice, study in the Child Training Bible and Virtue Training Bible, do personal prayer and worship.  Together time: worship acapella and with guitar, pray with (or without) the prayer wall, narrate Bible readings (per curriculum).
Night: Family Bible study led by daddy
.
Memory Verses:
2 Peter 1:5-8 "For this very reason, make every effort to add to your faith goodness; and to goodness, knowledge, and to knowledge, self-control; and to self-control, perseverance; and to perseverance, godliness; and to godliness, brotherly kindness; and to brotherly kindness, love. For if you possess these qualities in increasing measure, they will keep you from being ineffective and unproductive in your knowledge of our Lord Jesus Christ."
Review:
1 Corinthians chapter 13
1 Peter 5:8 "Be self-controlled and alert. Your enemy the devil prowls around looking for someone to devour."
1 Peter 3:10 "For, 'Whoever would love life and see good days must keep his tongue from evil and his lips from deceitful speech.' "
"I have been crucified with Christ and I no longer live, but Christ lives in me.." Galatians 2:20
"Now faith is the substance of things hoped for, the evidence of things not seen." Hebrews 11:1

"I am the resurrection and the life. He who believes in Me, though he may die, he shall live.

 And whoever lives and believes in Me shall never die." John 11:25-26
.
 Hymns:
Poetry Recitation:
Trees by Joyce Kilmer
I think that I shall never see   
A poem lovely as a tree.   
   
A tree whose hungry mouth is prest   
Against the sweet earth's flowing breast;   
   
A tree that looks at God all day,
And lifts her leafy arms to pray;   
   
A tree that may in summer wear   
A nest of robins in her hair;   
   
Upon whose bosom snow has lain;   
Who intimately lives with rain. 
   
Poems are made by fools like me,   
But only God can make a tree.
.
Handwriting:
Write for Real Life: writing books, letters, cards, shopping lists, nature journal entries, prayer journal entries, His Story book, spelling words, poem or memory verse copy work, copying verses from the Child Training Bible and Virtue Training Bible.
Print to Cursive. (Faith) Hymns in Prose. (Noah)
Daniel practices his reading words on our little black chalkboards from Handwriting without Tears

.
.
Spelling/Language/Story Crafting:
Faith studies, word builds, hand writes, and then recites the spelling of all new reading words from one Pathway Reader story a week. Noah does prepared dictation using classic literature selections in the curriculum Spelling Wisdom, and language lessons in Using Language Well.
.
Sometimes Noah and Faith do creative writing using these story starters. Other times they write in their blank books in which they are making their own stories.
.
Reading:
Once a week, Noah and Faith read from their Pathway Readers to practice prosody. The readers provide spelling words for Faith (she will switch to prepared dictation in 3rd grade). Daniel is doing Delightful Reading curriculum to learn to read.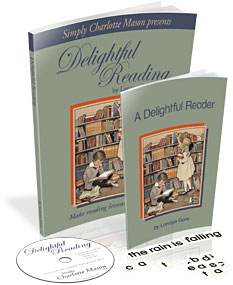 Vocabulary:
Most words are learned naturally in conversation and during read alouds as words in question arise. I also have Noah and Faith look up one word, any word of choice, once a week, usually in the Noah Websters 1828 Dictionary, and write out the definition in their vocabulary notebooks.
.
Literature Read Alouds:


.
History and Geography:
5 lessons a week from SCM's Early Modern & Epistles history curriculum. Noah and Faith daily narrate readings orally, and also narrate in their 'His Story' sketchbooks with drawings once a week or so. For geography, we do 1 lesson a week from SCM's Visits to North America geography curriculum.
History Curriculum Manual and Spines:
.
Living Book List:
Nathan Hale: Patriot Spy by Shannon Zemlicka
Crossing the Delaware by Louise Peacock
Leutze: Washington Crossing the Delaware by Ernest Goldstein
Stars and Stripes by Leonard Fisher
Betsy Ross by Alexandra Wallner
A Flag for Our Country by Eve Spencer
Flag Day by Dorothy LesTina
betsy Ross by Ann Weil
Betsy Ross: Patriot of Philadelphia by Judith St. George
Betsy Ross by Susan Martins Miller
Betsy Ross & the Flag by Jane Mayer
Aaron and the Green Mountain Boys by Patricia Lee Gauch
Arrow over the Door by Joseph Bruchac
Great Big Wagon that Rang by Joseph Slate
Buttons for General Washington by Peter & Connie Roop
Danbury's Burning! by Anne Grant
John Paul Jones: Hero of the Seas by Keith Brandt
They Called her Molly Pitcher by Anne Rockwell
Black Regiment of the American Revolution by Linda Brennan
Jack Jouett's Ride by Gail Haley
Patriots in Petticoats by Patricia Clyne
Picture Book of George Washington by David Adler
George Washington and the General's Dog by F. Murphy
George Washington by Ingri & Edgar Parin d'Aulaire
I Did It With My Hatchet by Robert Quackenbush
George Wahsington's Cows by David Small
Washington's Birthday by Clyde Robert Bulla
George-isms: The 110 Rules George Lived By
Martha Washington: First Lady of the Land by L. Anderson
The Story of Mount Vernon by Natalie Miller
Revolutionary John Adams by Cheryl Harness
A Bird in the Hand: Sayings from Poor Richard's Almanac
Benjamin Franklin by Ingri & Edgar d'Aulaire
Geography Curriculum Manual, Spines, and Prayer Manual:
.
Living Book List:
If You are Not From the Prairie by Dave Bouchard
.
Math:
Daniels Lessons:
Arithmetic for Young Children (mental math)
Spend a few minutes using "flashcards" with arrangements of items that can be counted (like toothpicks or buttons that can be grouped into two numbers upon closer inspection in order to quickly find the total). Count blueberries and grapes and other food at the table often.
.
.
.
.
.
Plus and Minus Train (p 35) Make 2 game boards with the outline of cube train 20 cubes long. Each player puts 20 cubes on a game board. The goal is to be the first to completely clear his or her board. Each player rolls a 1-6 number cube (dice) and spins a spinner with minus sign on one side and plus sign on the other to see how many cubes to add or take off. Players lose a turn if they have to add more cubes than there are spaces available.
Describing a Number By Its Parts (p 56) You and your child both make a cube train of a specified length (pick the right size number for your child). Give the signal "snap", and both of you break your train into two parts any way you like. Take turns determining the number combination in each others hands ("3 and 2″ or "1 and 4″ for a train of 5 for example). For numbers greater than 6, say how many cubes to break off, give child time to determine the combination, and then ask, "How many?" The next level to this activity is for each person to keep one hand behind his/her back, and have your partner predict how many cubes are hidden. Then check predictions.
Recording Designs and Creations (p.158)
Children will focus on shape and position by making a design and copying it. Have the children create a simple design with pattern blocks or tiles. Then have the children copy these designs by gluing down paper shapes that match the blocks (you can print "printable pattern block shapes from the internet" and cut them out before hand). The copying portion of the activity is important because reproduction requires children to pay close attention to the position of the blocks relative to each other and the number being used. Limit the number of blocks you give them if needed because it is easier for them to build than it is to copy.
          Games:
Dot and Number Memory (p.14) Match even and odd dot cards to matching numeral cards (all placed in order in two separate rows upside down).
Even Odd Dot Memory (p.15) Same as game above except one person collects evens, the other collects odds (to become more aware of the difference).
Build a staircase on the abacus
Faith's Lessons:
Place Value, Multiplication, and Division book; Life of Fred Books; and Kahn Academy
Noah's Lessons:
Elementary and Middle School Mathematics by John Van De Walle, Life of Fred Series, Your Business (pet Store), Kahn Academy, and an occasional Math Card Game.
.
Science/Nature Study:
.
Spanish:
Bilingual children's picture books.
.
Piano:
Online lessons at simplymusic.com (most weekdays 10 minutes)
.
Keyboarding:
Mavis Beacon (once a week 10 minutes)
.
Videos:
On Fun Fridays, at family movie night we watch Moody Science videos, Winnie the Pooh, Land Before Time, BBC's Planet earth and The Blue Planet, Little House on the Prairie (the mild episodes), the Sound of Music, and other (mild) family movies. We usually preview movies and decide if they are wholesome and mild enough for our sensitive kiddos. And we do use the fast forward button. 🙂
.
Traditions and Fun Friday Projects:
Paint Cowboy at Sunset

Make an Easter Garden Basket  
Plan a Family Seder
Daniel – paint underground garden vegetables
Fieldtrips:
Round Valley creek and other local creeks
Waterfall and wildflower hikes